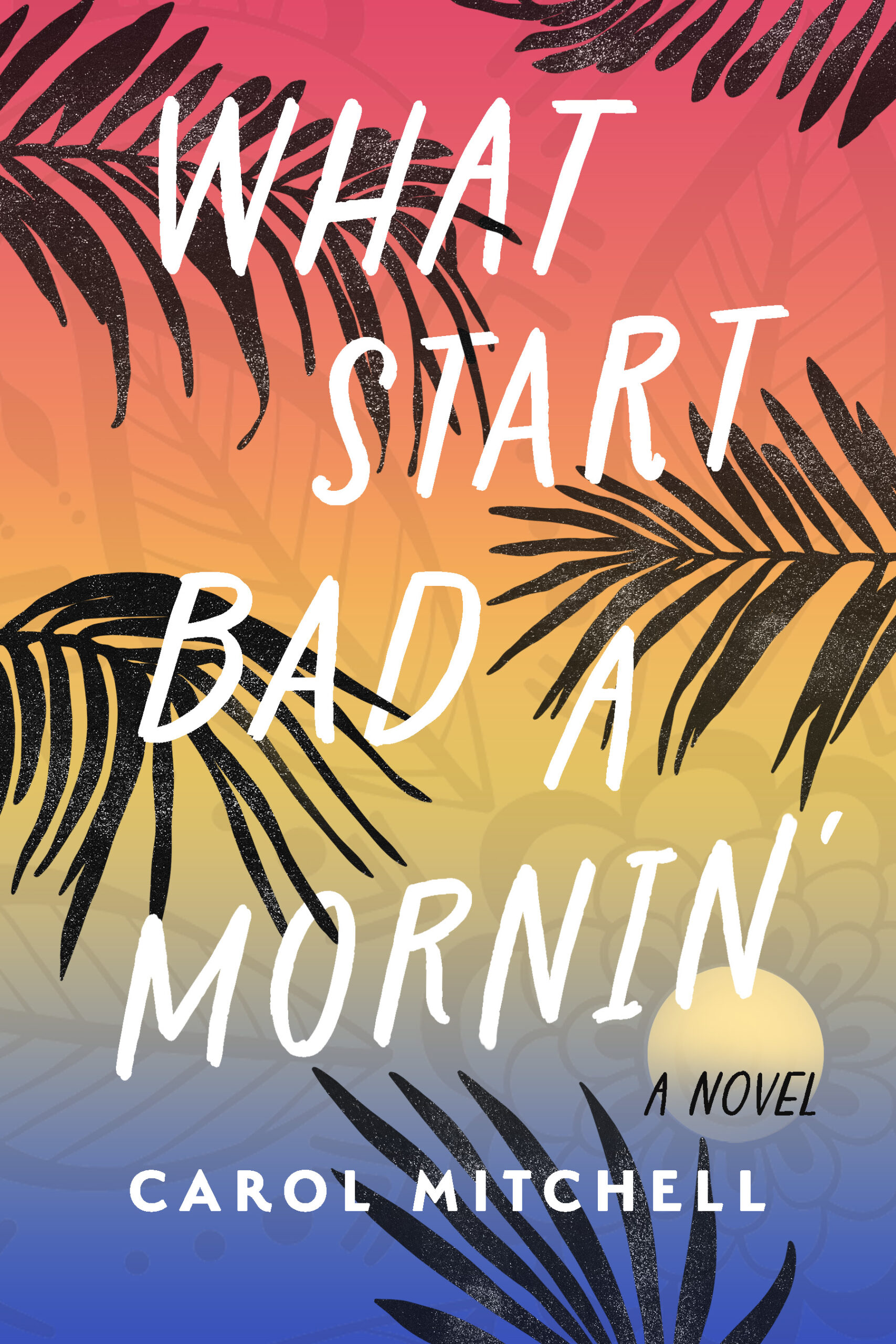 "What start bad a mornin', cyan end good a evenin'." — Jamaican proverb.
Booklist Review: "…an engaging and life-affirming read."
Available now in hard cover, audio, and kindle: 19 September 2023
What Start Bad a Mornin' was released on September 19, 2023 and we have a lot of activities planned to celebrate! I hope that you can join me at one or more of the events. Check back here or follow me on IG @WriteWithCarol for updates. Also read the reviews.
If I don't have an event scheduled near to you, talk about the book at your favorite bookstore or if you know of a location that might be interested in hosting an event, please let me know. And if your book club is discussing the book, I would be happy to Zoom in to the discussion.
All times are in EST.
---
August 9-10
Virginia
New Atlantic Independent Booksellers Association Conference

---

August 12
5 p.m.
Online

Reading at LIT BALM: An Interactive Livestream Reading Series

---

August 21
Premiere
1:00 p.m.
Online

Interview with Krylios and Erin Palmer of Team Rayceen. We talk about the origins of What Start Bad a Mornin', the key takeaways, and what I'm working on next.

---

August 29
8 p.m.
Online
Join me as I talk with Eva Greene-Wilson about motherhood and more. Watch on YouTube or on Facebook.

---

September 10
12 p.m.
New York
New York pre-launch event!
Brooklyn Caribbean Book Festival
The event is free but register to attend.
Location: New York University,
370 Jay Street,
Brooklyn, NY.

---

September 18
Online

Interview with Yolanda T. Marshall in The Caribbean Camera.

---

September 19
7 p.m.
Washington D.C.
D.C. Launch
Sankofa Video, Books & Cafe
Register to attend.
The event is free, but you can prepay for a copy of the book there, if you have not already preordered your own copy.

---

September 17-30
Online

Cocoa Chapters
IG Tour

---

September 23
2:30 p.m.
Harlem, NY
Harlem Book Fair
I will be in conversation with Simone Adjei of iReadify about "Building A Global Community Through Culturally Relevant Literature", but I will be at the festival and happy to talk about all of my books!

---

October 7
Saturday
7 p.m.
Charlottesville, VA
In person
New Dominion Bookshop Author Event
404 East Main St, Charlottesville, VA 22902
Let us know you're coming: Sign up on Facebook.
Preorder a copy of the book at New Dominion Bookshop to ensure you can get a copy signed at the event. Pre-order in person, complete the online form, over the phone (434-295-2552), or by email at staff@ndbookshop.com

---

October 9
Monday
7 p.m.
Reston, VA
In person

Scrawl Books Author Event. A conversation with author Donna Hemans.

October 14
11 a.m.
Fairfax,
Virginia
Fall for the Book Festival
Old Town Hall, 3999 University Drive, Fairfax, VA
Voices of the Caribbean: Family, Memory & Secrets with Joanne Skerett

---

October 17
7 p.m.
Washington,
D.C.
Reading at the InnerLoop Reading Series. Location TBD.

---

October 20
Private book club meeting

---

October 28
St. Kitts
7 p.m.
St. Kitts Launch, Book Talk, and Signing for What Start Bad a Mornin' by Carol Mitchell in conversation with Nerissa Golden. Register today for free to secure your spot!

---

November 22
Private book club meeting
February 7–10, 2024
Kansas City,
Missouri
#AWP 2024 Panel. Mek We Talk: Language and Identity in Caribbean Writing and Beyond.

---

April 21, 2024
New York
Reading at Hudson Valley Writers Center
300 Riverside Drive, Sleepy Hollow, NY

---
Please check back often as this list will be updated as more events are confirmed.
About the Book
| | |
| --- | --- |
| Amaya Lin has few memories of the years before she turned eighteen. Now in her forties, she has compensated by carefully cultivating a satisfying life as a wife, mother, and business professional. Her husband's law practice is on the brink of major success; her neurodiverse son has grown into an independent adult; and she has come to terms with her aunt's dementia. This sense of order is disrupted when she encounters a stranger who claims to have an impossible connection, launching Amaya on a tumultuous journey into the past. | |
Using three interwoven narratives spanning the US, Trinidad, and Jamaica, Carol Mitchell's debut gives voice to an immigrant woman forced to confront her repressed memories of violent trauma.