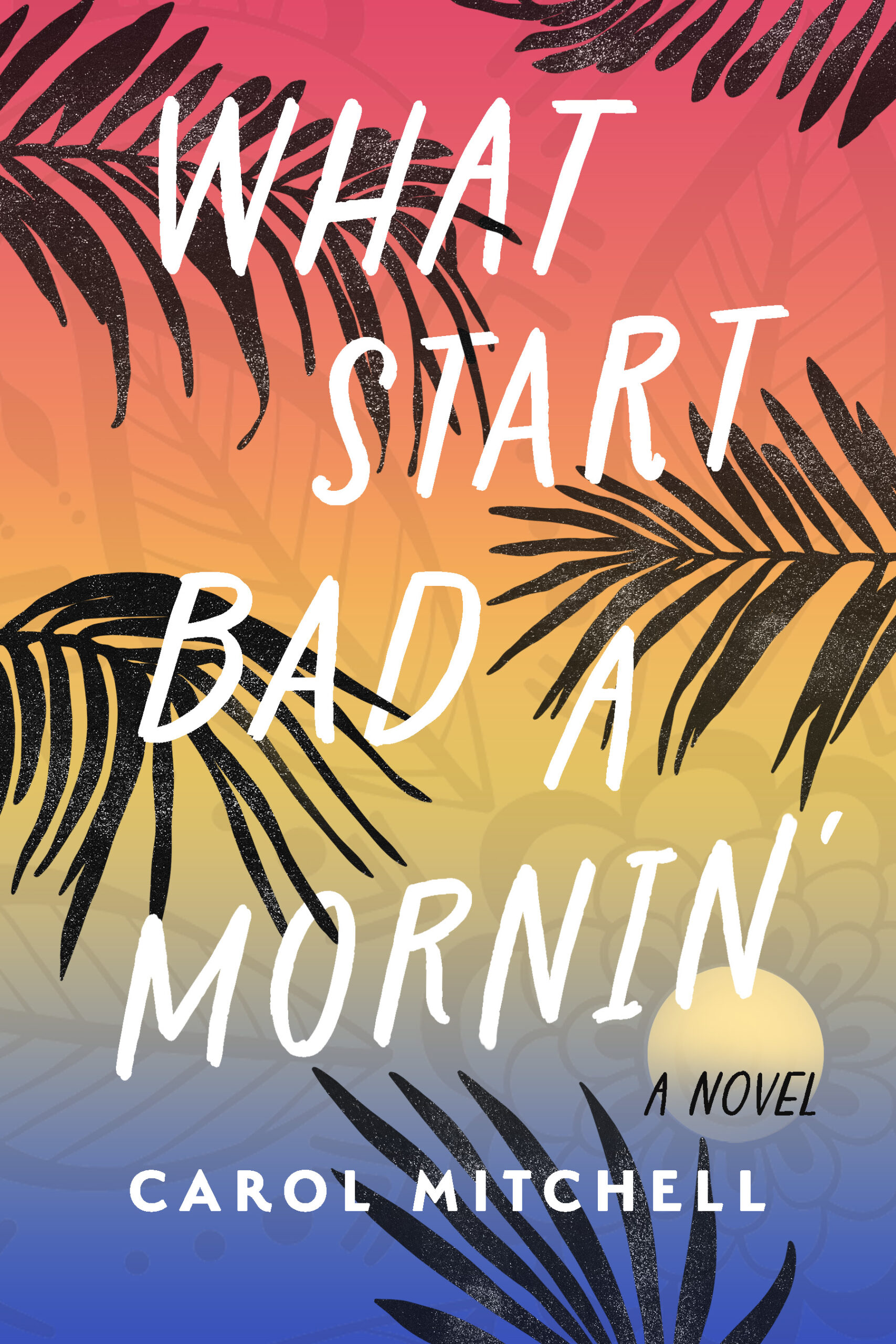 "What start bad a mornin', cyan end good a evenin'." — Jamaican proverb.
Booklist Review: "…an engaging and life-affirming read."
Available now in hard cover, audio, and kindle: 19 September 2023
For information about the launches and appearances, see the Book Tour Schedule.
Synopsis
Amaya Lin has few memories of the years before she turned eighteen. Now in her forties, she has compensated by carefully cultivating a satisfying life as a wife, mother, and business professional. Her husband's law practice is on the brink of major success; her neurodiverse son has grown into an independent adult; and she has come to terms with her aunt's dementia. This sense of order is disrupted when she encounters a stranger who claims to have an impossible connection, launching Amaya on a tumultuous journey into the past.
Using three interwoven narratives spanning the US, Trinidad, and Jamaica, Carol Mitchell's debut gives voice to an immigrant woman forced to confront her repressed memories of violent trauma.
About the Author
Carol Mitchell is a Caribbean immigrant living in the United States. Born in St. Kitts, she lays claim to several other islands. She holds an MFA from George Mason University and is a fellow of the Virginia Center for Creative Arts. Her short stories have appeared in several Caribbean journals and she reviews books on her blog and for various journals. She has published eighteen books for children, including three with HarperCollins UK. Four of her short stories have been long-listed for the Commonwealth Short Story Prize. She lives and teaches writing in Virginia.
Reviews
Booklist (American Library Association) Review:
"Mitchell's ability to sustain tension while telling a nuanced story that balances family tragedy with a vision of acceptance and support makes this an engaging and life-affirming read."
Read the full Booklist review and many other advance comments and reviews from Foreward Reviews, Elizabeth Nunez, Cleyvis Natera, Courtney Angela Brkic, Lauren Francis-Sharma, Katia Ulysse, Opal Palmer Adisa, Jewel Amethyst, Nerissa Golden, Ev Greene-Wilson, Joanne C. Hillhouse, Charmaine Rousseau, Eugenia O'Neal, and more.
Where to buy:
Wholesale orders through IPG
…And all Amazon stores
More purchase options to come! If you have a favorite bookstore, please ask them to stock What Start Bad a Mornin' and let us know so that we can add them to the list.
Publication Details
Publication date: September 2023
Publisher: Central Avenue Publishing
ISBN: 9781771683548 (hard cover)
Formats: Hard cover, eBook, and audio
More information direct from the author!
D.C. Book Launch at Sankofa 19 September 2023: 7 p.m.
What does the name What Start Bad a Mornin' mean? (45 second video)
How does Great Falls Park in Virginia feature in What Start Bad a Mornin'? (55 second video)
Interview with Krylios and Erin Palmer of Team Rayceen. We talk about the origins of What Start Bad a Mornin', the key takeaways, and what I'm working on next.
Interview with Eva Greene-Wilson about motherhood and more.
Caribbean Book of the Day on Tropical Literature Creatives
For review requests contact Central Avenue Publishing or Carol Mitchell using carol at carolmitchellbooks.com
For interview or other speaking requests, contact Carol or her literary agent: Murray Weiss at murray at catalystlit.com