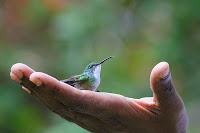 Photo by Theo Ferguson,
Hummingbird rescue at Yerette
I was a bit distressed to find that Henry Miller's number one commandment is my greatest struggle: Work on one thing at a time until finished.
Perhaps I have this problem because I write children's books and many young children live in a magical world of wonder. So many things are new to them, so many of their daily activities are 'firsts', they make new discoveries at a rapid pace. 
Perhaps I have this problem because I haven't really grown up myself? Who knows, but I am constantly discovering new ideas, urgent ideas and I find it difficult to work on one thing to the exclusion of all of the others. I have been trying, though; making notes as new ideas come to me and hoping that I will have the opportunity to do justice to everything at some point.


For someone with my particular problem, a trip to Trinidad is like a candy addict's visit to a Hershey's factory. There is so much to see, flora, fauna, natural phenomenon, and many creative man-made features. I saw Trinidad through my children's eyes–it was their first visit–and the view was colorful, lively, and magical.
This article first appeared in Novelspaces.