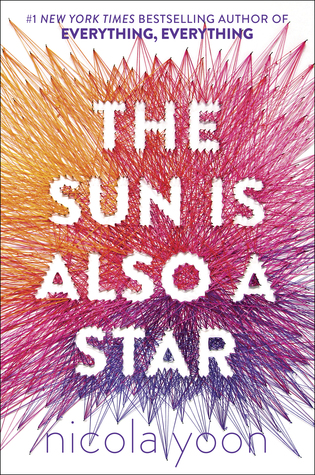 I read The Sun Is Also a Star by Nicole Yoon on a business trip to St. Kitts fraught with delayed flights. When I finally lifted my eyes from the book I found that friends from home were sitting near me in the airport. When I approached them their faces filled with concern.
"What's the matter?" they asked.
I was confused until I realized my eyes were still filled with the tears that had surfaced as I got to the end of the journey I had taken with Natasha and Daniel.
Natasha is a Jamaican teen living illegally in the US. Because of an unfortunate slip up by her father, their status was discovered and she and her family are scheduled to be deported. Daniel is a first generation American of Korean descent on his way to an admissions' interview at Yale at the insistence of his parents. The teens meet and Daniel undertakes to convince Natasha that love is not only real but that she can fall in love with him in one day.
As the couple moves through their fateful day, Yoon uncovers a variety of themes in this quick read, love, friendship, racism, sibling rivalry, immigration, multiculturalism, parental expectations, and more. That said, it is never didactic or preachy, the characters development and discovery is gradual and real.
Slight spoiler alert: Yoon very clearly wanted a HEA ending to The Sun Is Also a Star. Of all of the surprises in the book, the last scene was the least believable and perhaps a bit forced. I could not help but feel slightly cheated by the method of delivery of the good fortune. However, readers, who will have been cheering for Daniel and Natasha may be willing to forgive this in order to see the possibility of happiness for the couple.