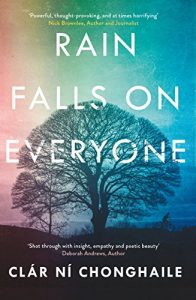 I received this book free on NetGalley.
Theo is one of the lucky ones. Rescued from the midst of the Rwanda genocide by an Irish humanitarian, he's raised in Dublin from the age of seven. He never forgives himself for his father's actions in the war and even as he puts a face on trying to fit in to life in Dublin he is careless with the gift he's been given perhaps because he's not sure he deserves it.Brimming with beautifully crafted and thoughtful imagery, Rain Falls on Everyone begins with Theo running from the law after killing a man. It then dips back to the events leading up to that night. At first the author weaves a thread of suspense so tight that readers will be on the edge of their seats hesitating to turn the page tor fear of the terrible judgement we know must be delivered on Theo. He's a dark character, scarred and flawed but so honest with himself and loyal in his dealings with others that it's impossible not to care about him. And as the story progresses, it's clear, despite the slow and steady pace of the writing, Theo's life is a runaway train minutes from derailment.
When Theo meets Deidre, a mother of three who works at the same place Theo does, the author begins to alternate the narrative between these two main characters. This is reasonable, after all it's Deidre's abusive husband whom Theo kills. Before the murder, Deidre's life becomes entangled with Theo's in ways that the characters themselves are not aware. Some of the connections seemed a bit contrived but that does not really detract from the story. While Deidre's story is compelling, I found myself waiting to get past the sections told in her point of view and looking forward to hearing Theo's voice once more.
Thoughtful readers may read wondering how the author will end this tale of so much sadness. The ending of Rain Falls on Everyone is satisfying to some extent. Theo was rescued by whites as a child and they continue to be his 'saviour' to the end, giving him the guidance he needs to get some closure. But he does achieve enough of his growth through his own self searching and again readers will likely forgive the gratuitous manner by which he comes by some of his maturity.