Check out my books for all ages–Young Readers, Middle Grade, Young Adults.

Younger Readers
The Chee Chee's Adventures series is for the younger children in your life. Aimed at children ages 0-7 and beautifully illustrated by Ann-Cathrine Loo, this series will delight them.
Inspired by a very real and incredible young man, The Masquerade Dance tells of a boy who is mesmerized by the "drum drum drum" of the masquerade beat and whose biggest dream is to dance the masquerade.
It is parade day in St. Kitts-Nevis carnival and Saulo is excited to see the masquerades perform, dance, and drum, drum, drum. But things don't go quite as planned.
Be careful, you too will fall in love with the masquerade dance after reading this rhythmic tale told in rhyme.

Seascapes features three stories about unusual friendships among unusual sea animals.
When hummingbirds Marianne and Marvin find themselves in a bit of trouble while building their nest, Marianne must use her wits to save the day.
Trinidad is known as the Land of the Hummingbird. In this, the first book in the Yerette Readers, read the charming story of Marianne and Marvin and learn some interesting facts about the fascinating hummingbirds.
Beautifully illustrated with photographs by Dr. Theodore Ferguson. Visit him and the hummingbirds at Yerette, the Home of the Hummingbird. Yerette is a sanctuary that Dr. Ferguson and his wife have cultivated and which they share with visitors. It is located in Maracas, St. Joseph, Republic of Trinidad and Tobago.
Middle Grade Novels
The Caribbean Adventure Series is about three children and a monkey who have exciting, magical adventures in the Caribbean. The books, aimed at children in the 7-10 age range, are interesting and informative as they have a factual setting.
| | | | |
| --- | --- | --- | --- |
| St. Kitts | Jamaica | Trinidad | Montserrat |
Young Adult Books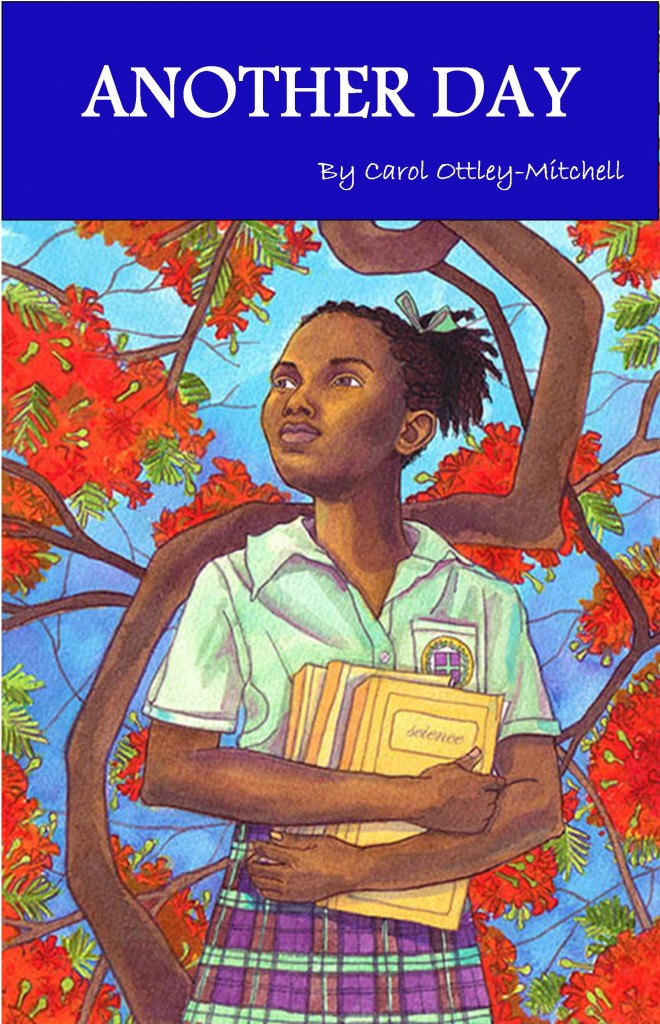 Another Day
In Carol Mitchell's Another Day, fifteen year-old Emma's life is turned upside down when her mom accepts a job on the Caribbean island of St. Youngs and takes Emma with her. Emma starts her new school ready to make friends but she quickly discovers that fitting in will not be easy. Her new classmates are divided along the lines of a bitter and long-standing rivalry between two of the boys in the class, Nicolas and Anthony. Will Emma join her only friend and side with Nicolas, the popular choice or will she follow her heart and help Anthony to dig himself out of his seemingly impossible position.
Set on a fictitious island, Another Day touches many realities of coming of age in the Caribbean and dealing with new love and class divisions.
Barberry Hill 
When Rashid is killed in a gang-styled execution on Barberry Hill, everyone in St. Kitts thinks that he must have been a gang banger, but Jaden knows better.
With the help of his two best friends, Jaden sets about clearing his brother's name. But the murderer is not about to let that happen. Can the friends survive the truth?
Finalist in the 2016 Burt Award for Caribbean Literature
"Emotionally compelling– an honest portrayal of grieving that felt true to life…well paced…kept moving nicely and kept us guessing…" Comments from 2016 Burt Award for Caribbean Literature judges
These books are available on Amazon, Barnes and Noble and in bookstores in St. Kitts-Nevis, Antigua and Barbuda, Barbados, Jamaica, Trinidad and Tobago, the USVI, and other islands.