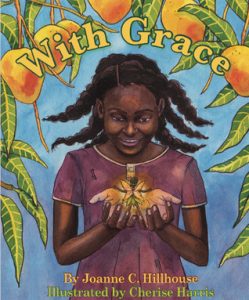 Written in Hillhouse's strong poetic voice, With Grace spins a magic-laden story of the universal battle between good and evil. But it is far from ordinary. An involved tale, With Grace takes the reader on a series of twists and turns as Hillhouse explores the limits of human capacity for tolerance and meanness.
Hillhouse skilfully evokes her Caribbean setting and the illustrations, beautifully painted by Barbadian illustrator Cherise Harris, complete the illusion.
Readers, children and adults alike, will be swept away into this fairy-tale and hold their breaths in anticipation of where the story will take them next.