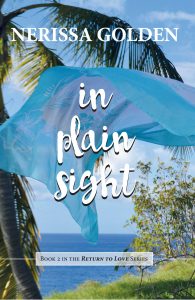 Nikki Alvarez thinks Montserrat just might be the place where she can piece together her fractured life and finally turn her back on her secret past. She has three supportive friends, Roxie, Bella, and Monique, who featured in the first book in Golden's Return to Love Series (Love's Sweet Joy), and a growing attraction for Dane Maartens, a police man whose sons Nikki has been hired to babysit.
From the very start, it is obvious that In Plain Sight is not a simple boy-meet-girl romance, and that Montserrat is not the idyllic paradise readers might expect. The police are kept busy freeing the island from criminal elements who seek to use its relative isolation as an opportunity for trafficking in drugs and worse. Dane Maartens, a Dutch expat living in Montserrat on a contract to train the police, finds himself thrown into actual police work as he helps to solve the mysteries that keep washing up on the island's shores. This work keeps him away from his sons, and so he accepts Roxie's offer to have Nikki look after the boys while he works.
Having Montserrat as the story's backdrop feels fitting, as Nikki's resilience in her journey to recover from a traumatic tragedy is reminiscent of the island's journey to recover from the active volcano which became active in 1995.  Golden draws a believable well-rounded character in Nikki, and she does not shy away from painting Nikki as beautiful yet flawed just as she is unafraid to expose the unsavory elements that can exist on the island alongside its considerable charms and otherwise unspoilt beauty.
Like Love's Sweet Joy, book one in Golden's Return to Love Series, book two is filled with characters you will think about long after you finish the book. Roxie, Bella, and Monique return in their full enthusiastic splendor, and, Declan, a personal favorite of mine, plays a significant role. I hope to see him develop a romantic story line of his own in a future book, hint, hint.
Golden does a great job intertwining the Cinderella-esque romantic elements with the mystery and suspense. The two story lines are woven together just like the beautiful fabrics Nikki creates, and even as the reader may be anticipate the collision of the two story lines, they will watch it happen with their hearts in their hands, unable to look away as they root for Nikki and Dane's triumph.
In Plain Sight is a light romance. The love scenes are emotionally drawn and while there is a lot of sexual tension there is no actual sex or nudity. The books could be a good introduction to romance for an older teen.