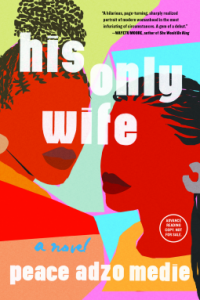 Twenty-one-year old Afi finds herself in the middle of another family's drama when she agrees to marry the son of a wealthy woman who provided support to Afi and her mother after Afi's father died. She enters the marriage willingly, despite never having met her intended before, and despite knowing that her husband-to-be is in another relationship and has a child from that relationship. Afi's mission is to convince her husband to leave the other woman of whom his mother does not approve, but things get off to a discouraging start. Her husband does not attend their wedding and does not show up at the luxury apartment in which she is installed after their marriage for quite some time.When he finally arrives, the two find that they have a lot in common and eventually fall into something resembling love. Eli supports Afi in her desire to learn fashion design and to build a business and a house for her mother. Unfortunately, the other woman remains a presence in their life and Afi eventually takes a stand. Even after she is successful in achieving what she demands, their happiness is not a given.
I loved the premise of His Only Wife: an arranged marriage in which the wife has a mission to unseat an already established other woman. It may seem improbable unless you are familiar with the power that sits within the heads of many very wealthy households, and not only in Ghana where the story is set. Once Eli's family decides that his girlfriend is unsuitable and worse, an embarrassment, the dye is effectively set against him. That Afi takes on this challenge and in the process discovers herself and regains control of her situation is a great bonus.
His Only Wife highlights disparities between the wealthy and the poor and between expectations placed upon men as against women. It addresses prejudices that exist within similar ethnic groups. It also does a good job depicting the landscape of life in the parts of Ghana featured in the story, both in the physical sense and in the social sense, for example, Eli's relationship with his mother, Afi's relationship with her hair, the constant presence of house staff in the wealthy households, and the demands that Afi's uncle places on her once she becomes the wife of a wealthy man. I lived in Ghana for some time and the depictions transported me back there.
Eli is painted as a complex character. He values Afi's abilities as a capable business woman, for example, when she thanks him for helping her to build a house for her mother, he says "I think you would have built this house even if you had never met me." At the same time, he expects her to accept his adultery because he is the man of the house. When Afi asks "How would you feel if I cheated on you?" he responds, "You know it's not the same thing."
Most of the other characters in the book are less nuanced. Afi's mother, Afi's uncle, Eli's mother, and his siblings seem single-minded in purpose and one-dimensional, perhaps in part because a lot of their interactions are told in summary instead of in full-blown scenes ,which is unfortunate since Medie shows herself very capable of compelling scene and character descriptions.
Afi's cousin, Mawusi, and her neighbor, Evelyn, are fun, colorful characters with their own development course. They offer Afi advice and provide some humor to the story.
My main issue with this book was the overall message about women's rights. While Afi does grow from a young woman who acquiesced to everything into a woman who demanded what she saw was due to her, she seemed to be challenging, not so much the idea that her husband had another woman, but the fact that Eli would not declare her as the more important woman in his life. In addition, she never took responsibility for her part in the farce–she married him fully aware that he was in love with someone else.
All in all, a quick interesting read that paints a very realistic and entertaining picture of life in Ghana and leaves readers a lot to think about in terms of the complex relationships between men and women.
I received a copy of this book from the publisher in return for my review.