The following article assumes that you are self-publishing. If you are going the traditional route, your publisher will be the one paying for and making the final decisions about your illustrator and illustrations.
This article is also primarily targeted towards picture books, however, it may provide some guidance for cover images as well.
So you have finished your book, completed the editing process, and now you are ready to have it illustrated.

Style
There are many styles for children's book illustrations and you should know going in what your vision is for the book. Some of the categories you should consider are whether you want realistic artwork or more of a cartoon-styled approach. Do you have a preference for the mode-traditional, water-colour, pen-and-ink, graphite, acrylic, or digital? You should also think about whether your images will be two-page spreads, single page full page images, spot images, or a combination. This article from Ingram Spark details the options and much more.
Pagination
Another thing to understand upfront is how your book will be laid out page by page. What will be on the right facing pages and left facing pages. Are there page turns that create suspense and entice the reader to turn the page to see what's next?
The image below shows a page from Wilbur the Beach Pig by Heidi Fagerberg with a very blatant suspense-building page turn.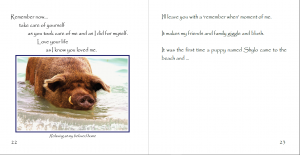 If you need illustrations, there are a few ways to go about getting them.
Royalty-free Images
There are a number of web sites that provide royalty-free stock images. Examples include Shutterstock, Dreamstime, Alamy, Getty Images, 123RF, iStockPhoto, UnSplash, and many more. Royalty-free does not mean that the images are free. What it means is that once you make the agreed upfront payment, you can use the image as many times and in as many locations as agreed in the licensing agreement without owing the artist any additional money.
This is one of the least expensive ways to illustrate. Images can run from US$2-40 depending on the number you purchase and the site you use. Images downloaded from UnSplash are free.
Photographs and stock images work best for non-fiction books and poetry books in which each poem can be depicted separately from the others. They are also great for cover images where you just need one image.
The downside with using stock images is that there is no exclusivity. The image you choose could appear in several other publications as well. There are options to request an exclusive agreement, however, this may reduce the affordability of the image. One way around this is to have a professional edit or combine images, for example, place a character from one image on the background of another so that your final image does not look exactly like anyone else's.
Note that you should not use images you download from the internet or acquire in other ways without permission. Some sites require you to credit the artist. Even if it is not required, I recommend recognising the artist on the copyright page of your book.
Manipulation of Vector Images
You can also purchase royalty-free vector images online then hire someone to manipulate them to create the images that you want.
The advantage of a vector free image is that they can be easily manipulated by a graphic designer. The designer can change colours, move items, add items, and more much more easily than is possible with other types of illustrations.
You can also purchase character sets which feature characters in various positions and with different expressions. The designer can then arrange the characters to depict the scenes in your book.
Many of the royalty-free sites mentioned above offer vector images.
Hire an Artist
If you want original work specifically designed for your book, you should look for an illustrator. You should try to find someone who has experience in working with books since talented artists are not always the best illustrators. An experienced illustrator will understand issues of image and text placement, developing suspense, and connectivity and flow of the book.
One way to find an illustrator is to look at books that are similar in style to what you want for your book and try to connect with the illustrator. There are also a number of sites like Upwork.com and Fiverr.com where you can view portfolios of freelance illustrators.
Once you have found an illustrator be sure to be clear about the size of the book, the type of illustrations you want, the positioning of your text (ensure there is enough clear space to place the text). These are things that are difficult to adjust once the final work has begun.
Also be sure to agree (preferably in writing) about the process for the project: How many illustrations are being provided? When are the sketches due? How may revisions can you have? When is the final work due? Do you own the illustrations outright or just the right to use them in the book? What happens if you don't like the illustrations. Having these details in writing upfront helps to avoid problems later in the project.
Book Design
If you choose an illustrator to do original artwork for your book, they may do the layout of the text and the page layout as well. If you choose to purchase royalty-free images, you should hire someone to design your book. If you do it yourself, be sure to look closely at other successful books and note important elements like the distance of text from the margins, the font face and size of your text, the placement of page numbers, and so on.
Keep these things in mind and you can produce a book in which the illustrations shine!
Photo by Marina Kazmirova on Unsplash