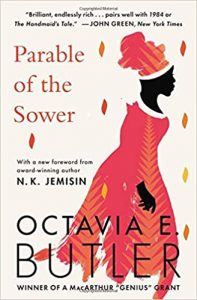 This is not a review, just my reflection on The Parable of the Sower by Octavia Butler written in 1993. This book is about a young woman, Lauren, growing up in the 2020s when the United States is in a state of anarchy. People survive by living in gated communities with armed neighborhood watches and live barely above the poverty line. Inflation is out of control, water is barely affordable, and slavery is mainstream once more. At eighteen, Lauren is forced to leave her community. She sets out on foot towards the north where she hopes she can find relative peace. She has an edict which she develops into a Bible of sorts that she calls "Earth Seed."
I read this book because there has been a resurgence of interest in it given the surreal situation in which the United States and the world currently finds itself. Today, Butler's description of the United States in the mid-to-late 2020s feels less like the unlikely imaginings of an author and more like a situation that could come to pass in time. The world Butler builds seems prophetic, but the next book I read, The Beekeeper of Aleppo, reminded me that there are parts of the world where a hell similar to that described in The Parable of the Sower exists and existed in the 1990s. I do wonder if Butler may have been more interested in exploring Lauren's proposed approach to religion. Perhaps she then built a world in which such an approach or cult (as one of Lauren's followers calls it) would find soil to grow. 
One of the things I noted about the book was that the adults kept saying "When things get better…" even as the world around them fell into irreversible chaos. This misplaced optimism made me realise that, six months into our current pandemic, it may be time to break out of my holding pattern and to start figuring out how to adjust life to long-term existence in this new normal.
Another thing of note is that there is no apocalyptic event that leads to the state of life in this book. Unchecked climate change, a dangerous drug epidemic, corruption, and what one of the characters, Bankole calls "a refusal to deal with obvious problems" take the world on the path to self-destruction. Butler looked at our world in 1990s and extrapolated to a desolate future. We have not quite arrived at the level of chaos and scarcity in The Parable of the Sower, in the Western world. However, we do seem determined to ignore the signs that signal the destination of our current path and to turn Butler from an author into a prophet.